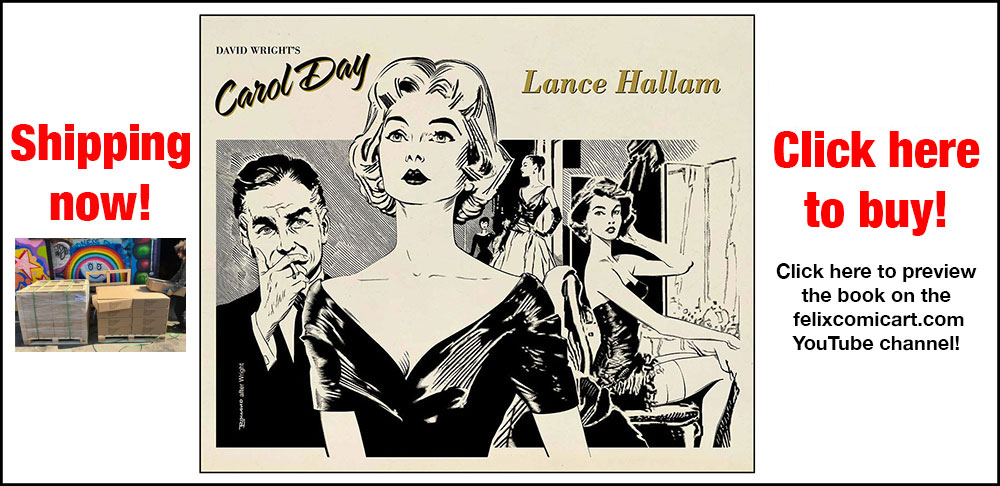 Brian Bolland discusses Carol Day on Cartoonist Kayfabe!!
Welcome to the Carol Day website! If you're not familiar with it, Carol Day, by David Wright, is a wonderful comic strip by a great artist. From 1956-1967, the Wright years, Carol Day transcends even the best American strips of its time, with its combination of sophisticated themes and stories, multi-dimensional characters and always magnificent art.
Over the last couple of years, the site has focused on the Lance Hallam story, and our project to publish it in a deluxe art-book format. Lance Hallam is one of the most popular Carol Day stories of the run and generally recognized as a masterpiece of the medium both in story and art, well worth a high-end presentation.
Lance Hallam is now shipping! Meanwhile, we are planning future volumes and to that end we are now calling for scans of original art from Face Value, Emergency!, and Problem Child. Please click the Project Dashboard tab and go to the Help section for the episode numbers we need and our requirements for scans. We welcome contributions!
For those of you who are interested in what story the example you own is from, or even what date it (or any other example) appeared in the Daily Mail, we've added the Carol Day Dating Service to the Story Guide section, and the Story Guide itself now covers the entire strip, including the Inns years after David Wright's death
The estate of David Wright is the current copyright holder of Carol Day, and it has graciously allowed us to reproduce this material here. Please respect this generosity and do not pirate this material.
Roger Clark, Chris Killackey, Guy Mills
January 2023